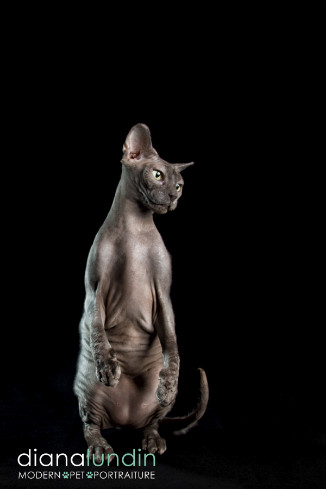 A friend of mine, Jayne Harrower, has a cattery in which her specialties are Sphynx and Lykoi cats. OK, for the uninitiated, Sphynx are hairless cats while Lykoi are known as the werewolf cat... they are a completely naturally occurring cat, not a designer cat, and they are awesome in their unusual look, which includes sparse fur on the top and almost no fur on their undercarriages (undercarriage may not be a technical term... that's what I call my cats' bellies). Jayne is breeding Lykois and she will have the first of them available in 2016. So exciting! For more information, I have a previous post about Channing, the Lykoi.
Jayne's cats just had a few litters of kittens and she invited me to take photos while there were still some young'uns roaming around. I must say, I don't think our kitten photos were completely successful but we sure got amazing images anyway! Her Lykoi Nero was up for just about anything and she had a returning house guest that was equally up for posing -- Wyatt Blue, whose human fathers are members of the a cappella group Pentatonix. Jayne originally sold Mitch Grassi and Scott Hoying Wyatt and he stays with her when the group tours. (And for another completely obscure reference, I saw Pentatonix this fall when they toured with Kelly Clarkson, who totally inspired a piece of work I did. Weird, huh?). 
I photographed one of Jayne's Sphynx studs, Jax, once before when they came to Los Angeles to shoot a music video for Stereolizza. We didn't photograph Jax yesterday but we did shoot his furry son Spyder, who is contributing to the Lykoi line. Oh lordy, Jax isn't Spyder's son, Channing is! So confusing.
Anyway, enough of the strange references of the past. We got a lot accomplished yesterday! We created beautiful light on a black background. You know, mama D likes her photography plain and simple. Well, I prefer it be called "clean and modern" but the bottomline is I generally don't need a prop intervention. And yet I brought some. Check it out, let me know what you think.
Ready for your own pet photographer to come shoot your furry and unfurry pets? Call me, Diana Lundin. I'm in Los Angeles, I travel, and I want to be your pet photographer. The number again is 818.481.5214. Operators are standing by!