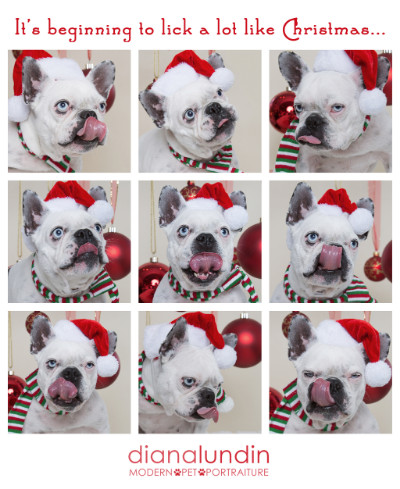 We wrapped up our annual holiday shoot at Maxwell Dog in Studio City and one of our favorites -- okay, we have no favorites, they were all so cute -- was Winston, the Frenchie. Winston is hard of hearing. Deaf, really. So the way we get a dog's attention is with sound and in this case sound wasn't going to work. We had to resort to Plan B, which is why you should always have a Plan B. Plan Peanut Butter. Yep, we whipped out the peanut butter for dogs (you didn't know there was such a thing?) and we managed to get Winston's attention that way.
Needless to say, we had a lot of Winston licking his chops. So that's when I decided to make this collage of his tongue poses. His mom Shelly loved it so much she ordered Christmas cards of them.
It's beginning to lick a lot like Christmas, isn't it? Everywhere you go...