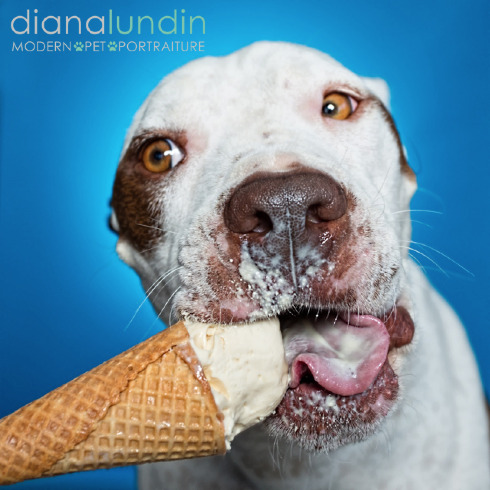 You all know that charming viral video with the two dogs in the car, Cooper and Daisy, and their mom gives them a McDonald's ice cream cone. Bottom line, Daisy gets the treat first because Cooper eats his too fast. Cooper annihilates the cone in less than a second after Daisy has gotten a few licks in. Well, I love that thing. So I wanted to capture something along those lines, except in photography, not video.
I held a little ice cream social for a few neighborhood dogs of mine, all dogs I've photographed before in my quiet Sherman Oaks neighorhood. There was Dudley and Lucky and Nacy and Fergie and Ollie.
For the ice cream, so I didn't have to contend with the dairy/lactose issue, I bought Frosty Paws, "ice cream" in a cup for dogs. I had a hard time finding them in the freezer case but sure enough they were at the end of the regular ice cream goodies. I lined the inside of a regular sugar cone with peanut butter to make it extra tasty, then scooped the Frosty Paws into the cone. I made a few, then set up my lights.
I was originally intending to have four backdrops but that was crazy. I ended up having a blue and pink, well, for boy and girl dogs.
And then my guests arrived. Dudley came first. He's my immediate next door neighbor and I am quite fond of him and his owners, Chris and Dustin. That big boy loved his cone. It's really funny to watch them eat it because they really do just want to chomp it, not lick it. And you could tell he loved the peanut butter surprise inside.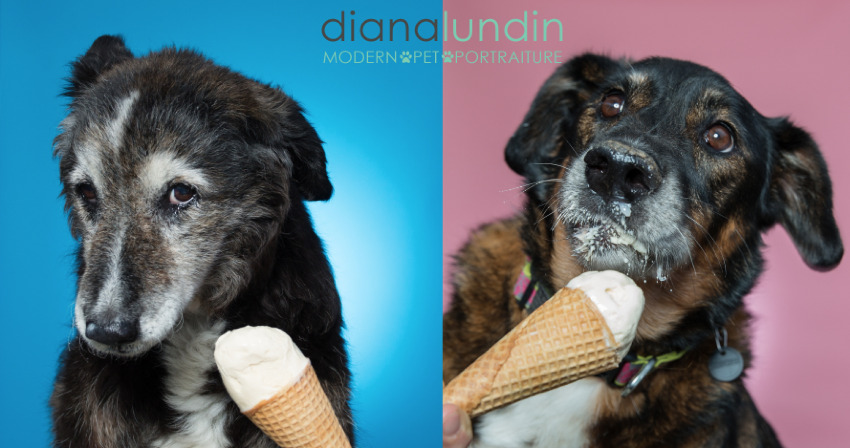 Next came Lucky and Nacy with their people family, Kristin, John and Cole, who was promised an ice cream outing of his own after the dog ice cream social. Now I didn't have much luck photographing them the first time a few months ago. Lucky is very, very shy and Nacy has part of her jaw removed so her long tongue hangs off the side. But ice cream is the great equalizer. Although the photo I'm choosing to show depicts an apprehensive Lucky, it's mostly before he really gets into eating his treat. He's shy so I don't mind showing him shy. And Nacy... when you put the ice cream on the side her tongue hangs out, you can't even tell there were any issues. She was very distracted by some buzzing flies so that is the picture I chose. And her tongue doesn't even show at all in this image.
Then Fergie and Ollie arrived. If you've seen my website, Fergie is the Cavalier King Charles spaniel whose mom has the matching slippers. And Ollie's portrait is one of the first ever pictures I ever took doing pet photography and one of my favorites to this day. You'll recognize it because it's the back of his blond head.
Fergie was very excited and her mom Cheryl said the ice cream treat was the best day of her life. I'm sure that's not true because Cheryl and David treat their animals grandly, like they should be treated. Fergie is a little princess and she delicately licks her ice cream, though she was definitely one of the ones who was a chomper, not a licker. And then sweet Ollie, the little clown, got ice cream all over himself. Cheryl asked if she should wipe it off. Are you kidding? That's the look!
So my little ice cream social for five turned out to be a lot of fun and we got some great images.
Want an ice cream social for dogs yourself? Call me at 818.481.5214. I'm Diana Lundin and I'm a Los Angeles pet photographer.