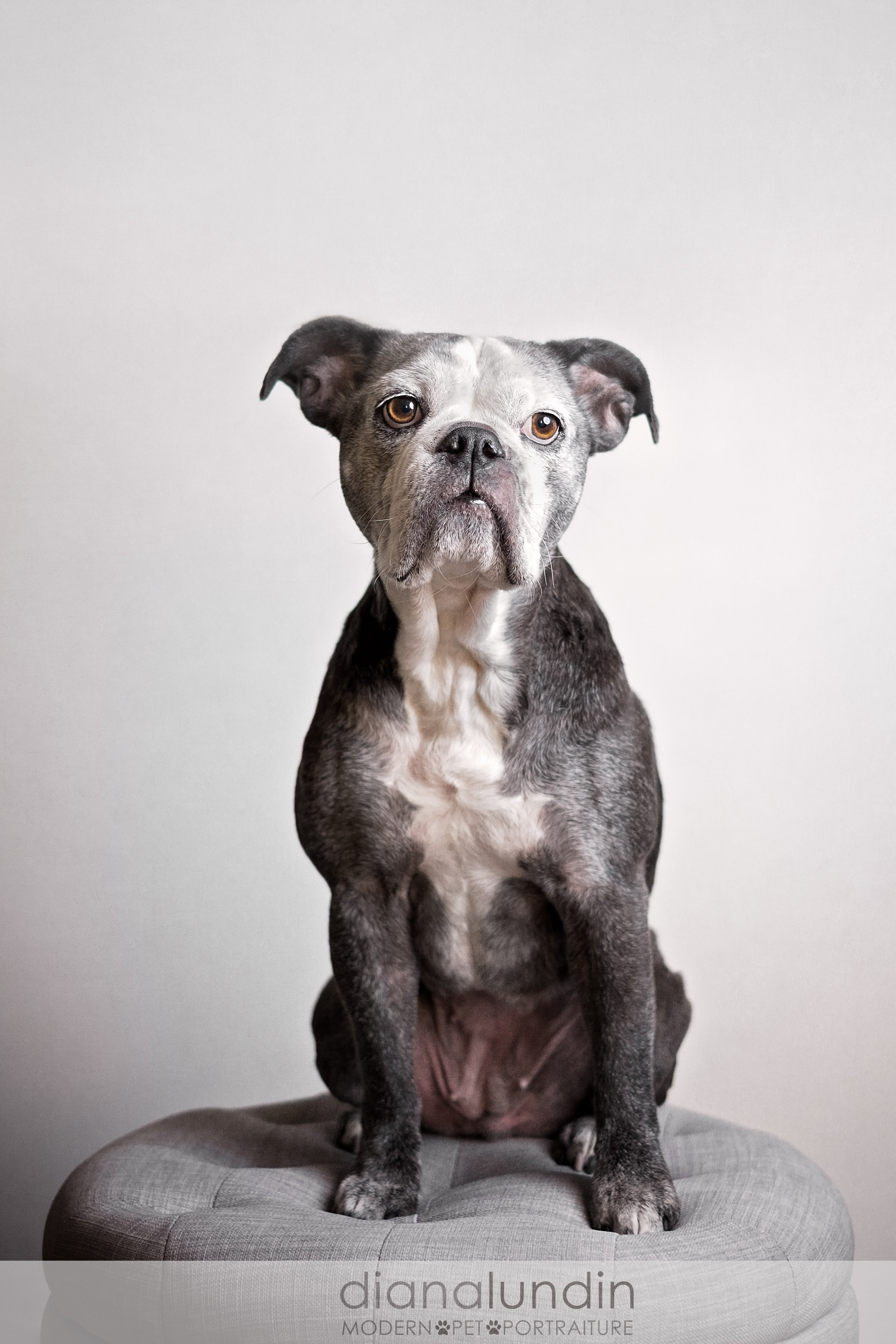 What word do you overuse?
Me? Probably gorgeous. But when you see a beautiful frosty face like Georgie's, what word are you supposed to use? Right?
Georgie's dad Oliver received a gift certificate from good friends. Oliver travels a lot so it was hard pinning down a date for our session for his miniature English bulldog. But Georgie is getting up in years and Oliver just decided not to postpone the shoot any longer. If anything happened, he would regret it no end.
And so we had our shoot right in front of the ocean in Santa Monica. We didn't use the ocean as a backdrop but we had a stretch of park with green grass we could use. And then we repaired to Oliver's apartment to finish our photo shoot.
A famous photographer, Arnold Newman, famously said, "Photography is 1 percent talent and 99 percent moving furniture" and you know, that's not far from the truth. We had to rearrange a few items of furniture, not many, but we found a nice leather chair and ottoman to use for Georgie to sit on. I put that against a white wall and it was as if we had a backdrop.
Georgie has such soulful eyes, don't you agree? She's seen a lot in her days. Wise.
Strange to make a pitch here but I just started offering gift certificates you can literally buy from a link on this site. Automated. Hey, getting smart in my old age. Wise. They start at $350 and in general you get your pet photography session and your choice of $100 off the purchase of wall art or an album, or two 8x10s, or one 11x14. Or! You can get $350 off of your products if you have already purchased a session. Now why does that sound like a good deal? Because anyway you slice it, you can take $100 off of that $350 just by being readers of this blog and putting in the promo code: BESTGIFT Just click here for your gift certificate.
Not sure how long I'll be running that deal but take advantage of it at least until the end of April, my friends.