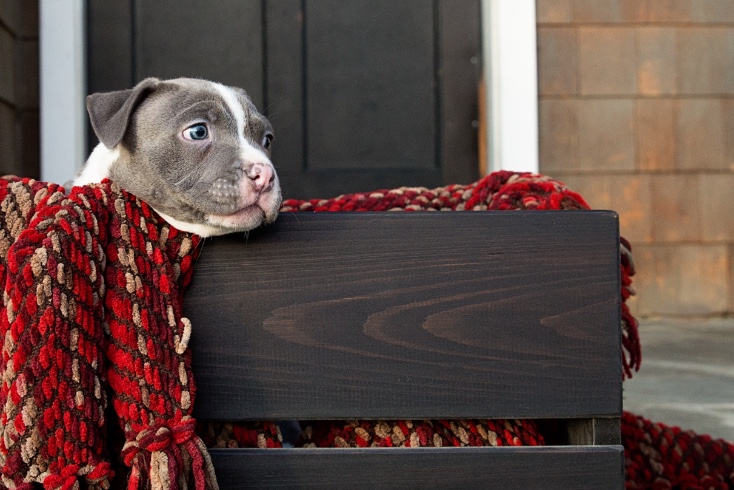 I recently traveled to Orange County to photograph a mom pit bull and her four puppies. The mom, Harper, had lived on the streets for two years before being rescued. She was found with her little litter of newborns and the family is being fostered in Newport Beach. If I'm a little vague on details, it's because I want the rescue to be able to publicize the rescue. They deserve the accolades, rightfully so,
The foster mother is pretty sure all the puppies will find homes by Christmas but the pitbull mom is a bit iffy. She has cropped ears and kind of a sad expression -- some call it RBF -- on her face but she truly is just a sweetie. I photographed her and her babies with no problems at all and that included flash and a beauty dish lit by a strobe. My fingers are crossed that she finds a forever home, too. Everyone needs a warm bed and a safe place to lay their head down at night with a full belly.
Now just because I like sweet things, I'm presenting two of the photographs I took this week of them. One, the little black and white one, is Audrey. And the gray and white one with blue eyes is Cooper. Aren't they adorable?
Do you have a new puppy? I would love to photograph him or her!! I am Diana Lundin, I am a Los Angeles pet photographer (and Orange County and Ventura, too!) and you can call me at 818.481.5214. Let's document your puppy's first year with professional photography!
P.S. This photo shoot was for Hope for Paws and here is the video of Lexi and her puppies rescue. I'm warning you, bring the Kleenex. And just so you know... all five, including mama, have been adopted.
BEST Pet Photography
​