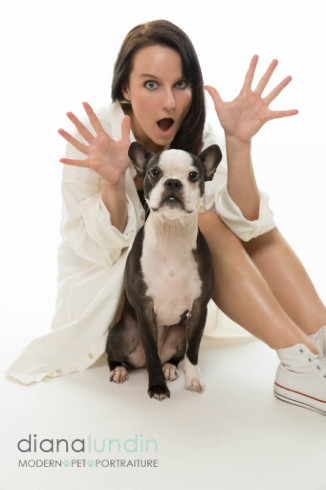 There's always a dog that grabs a piece of your heart. Well, so many of them do, honestly, but I do love me some Amelie, a little Boston terrier.
On my website, Amelie is one of my cover girls... she's the one out in the California wilderness with the Hollywood sign in the background. She's really quite a special one.
Well, I photographed her mom Xenia yesterday for something completely different. Xenia is an actress/model and we were doing some full-length body shots against the white seamless. At the end of the people portion of our photography session, I managed to get a few of Xenia and Amelie together.
One thing about Amelie... her mouth is filled with crooked teeth... it makes her that much more charming. I really am fond of that little girl.
Ready for your own custom pet photography session? Give me a call -- Diana Lundin at 818.481.5214. I'm in Los Angeles and I am YOUR pet photographer.
BEST Pet Photography
​