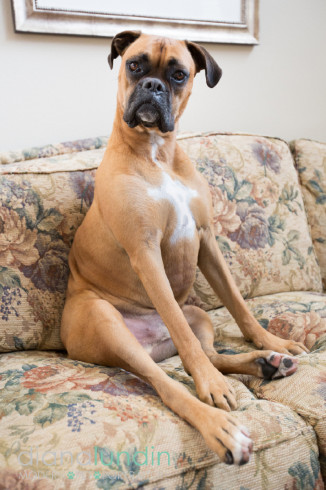 "The character of the Boxer is of the greatest importance and demands the most solicitous attention. He is renowned from olden times for his great love and faithfulness to his master and household. He is harmless in the family, but can be distrustful of strangers, bright and friendly of temperament at play, but brave and determined when aroused. His intelligence and willing tractability, his modesty and cleanliness make him a highly desirable family dog and cheerful companion. He is the soul of honesty and loyalty, and is never false or treacherous even in his old age." — 1938 AKC Boxer breed standard 
Boxers. What can you say about a boxer? They are sweet and so much fun. I had the pleasure of photographing two boxers in two days. Wiley was my second boxer. He greeted me with some fierce barks but once I was in the house, he was all sweetness and light.
We decided on several locations for Wiley -- in the living room, in the bedroom, on the stairs and outside by the pool. His mom Anita, who only got dogs once her own children were out of the house, loves to bake and her only request was a photo of Wiley licking the mixer beater. It turns out Wiley would do pretty much anything you wanted him to do as long as treats were forthcoming but he was also responsive to the noises in my patented Bag O' Tricks.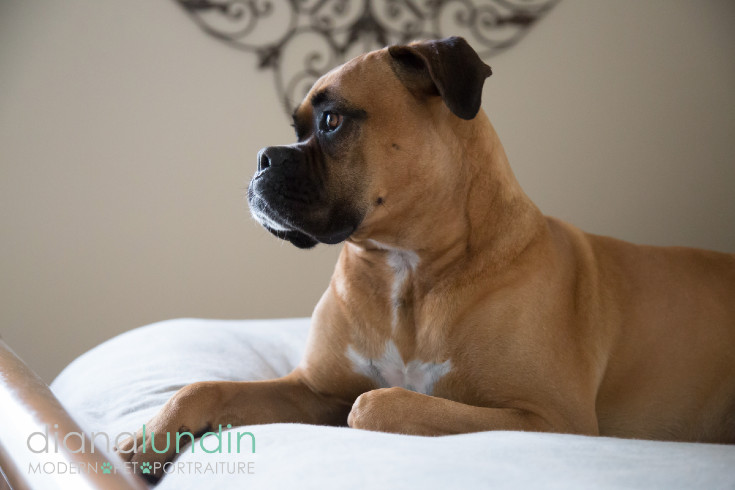 As usual, we wore Wiley out... like a toddler, he finally had enough of having a camera in front of him. But I think we did a pretty good job, don't you?
You don't have to have a boxer to have a shoot with me! I'm Diana Lundin, I'm a Los Angeles pet photographer, and I want to shoot your dog! Or cat! Call me, 818.481.5214, and let's make a date!
BEST Pet Photography
​